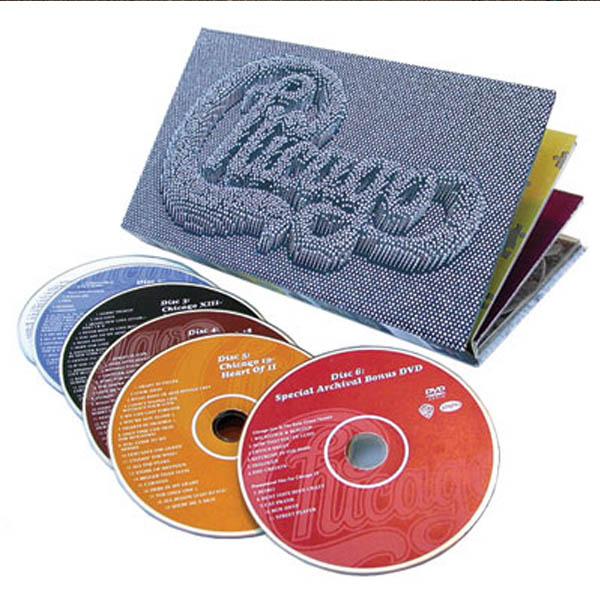 July 22, 2003
Rhino
Producer:
James William Guercio, Phil Ramone, Chicago, Tom Dowd, David Foster, Ron Nevison, Chas Sandford, Bruce Fairbairn, Lenny Kravitz, James Newton Howard and Roy Bittan
Produced with Chicago's involvement, this massive collection gathers over 100 songs on five CDs. It features hit singles, classic album cuts, band favorites, and three previously unreleased tracks from the fan-requested Stone Of Sisyphus project. A bonus DVD contains rare 1972 concert performances and a promotional film for Chicago XIII. Extensive liner notes include two essays, detailed track-by-track analysis, and archival photos.
Cover Design: Pushed out pins
Track Listing:
Introduction
Does Anybody Really Know What Time It Is?
Beginnings
Questions 67 and 68
Listen
South California Purples
I'm a Man
Movin' In
Wake Up Sunshine
Ballet for a Girl in Buchannon

Make Me Smile
So Much to Say, So Much to Give
Colour My World
To Be Free
Now More Than Ever

Fancy Colours
25 or 6 to 4
Poem for the People
It Better End Soon

1st Movement
3rd Movement
4th Movement

Loneliness Is Just a Word
Travel Suite
Mother
Lowdown
An Hour in the Shower: A Hard Risin' Morning Without Breakfast/Off to Work/Fallin' Out/Dreamin' Home/Morning Blues Again
A Hit by Varèse
All Is Well
Saturday in the Park
Dialogue (Part I & II)
Just You 'n' Me
Something in This City Changes People
In Terms of Two
Feelin' Stronger Every Day
(I've Been) Searchin' So Long
Mongonucleosis
Wishing You Were Here
Call on Me
Happy Man
Harry Truman
Old Days
Brand New Love Affair, Part I & II
Never Been in Love Before
You Are on My Mind
Mama Mama
Hope for Love
Another Rainy Day in New York City
Gently I'll Wake You
If You Leave Me Now
Mississippi Delta City Blues
Baby, What a Big Surprise
Take Me Back to Chicago
Prelude (Little One)/Little One
Gone Long Gone
No Tell Lover
Alive Again
The Greatest Love on Earth
Little Miss Lovin
Hot Streets
Street Player
Must Have Been Crazy
Manipulation
Thunder and Lightning
Song for You
The American Dream
Love Me Tomorrow
Chains
What You're Missing
Hard to Say I'm Sorry/Get Away
Stay the Night
We Can Stop the Hurtin'
Hard Habit to Break
Along Comes a Woman
You're the Inspiration
Good for Nothing
If She Would Have Been Faithful…
Forever
Will You Still Love Me?
Niagara Falls
Heart in Pieces
Look Away
What Kind of Man Would I Be?
I Don't Wanna Live Without Your Love
We Can Last Forever
You're Not Alone
Hearts in Trouble
Only Time Can Heal the Wounded
You Come to My Senses
God Save the Queen
Chasin' the Wind
All the Years
Stone of Sisyphus
Bigger Than Elvis
Caravan
Here in My Heart
The Only One
All Roads Lead to You
Show Me a Sign
DVD featuring live material from 1972 and promotional videos for Chicago 13 in 1979.
© Copyright 2023 Chicago Live Events, Inc. All Rights Reserved.