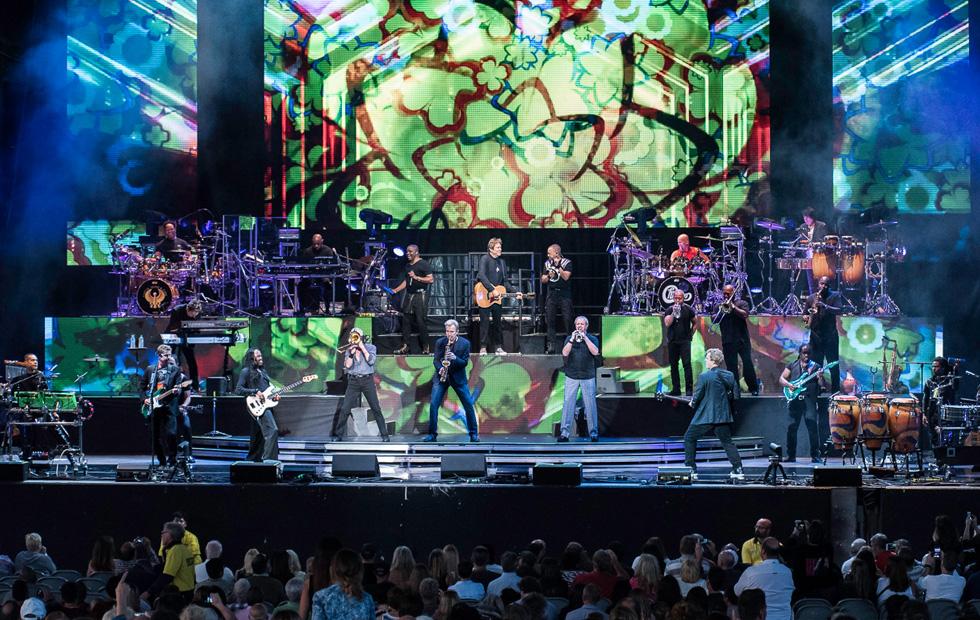 In two weeks, Chicago will be inducted into the Rock and Roll Hall of Fame, after decades of eligibility. Earth, Wind and Fire, on the other hand, is just getting back on the road after the February death of founder Maurice White, the brother of bassist Verdine White.
But while they're back in the spotlight for very different reasons, both bands have decided to seize their moment and run wild. On Saturday at Tampa's MidFlorida Credit Union Amphitheatre, Chicago and Earth, Wind and Fire swapped horns and hits for a jubilant 3 1/2 hours, treating 14,000 dancing fans to a crash course in their sizeable legacies, and capping the night with an all-star finale that felt like a Hall of Fame ceremony in itself.
The two bands opened the show together, entering member by member, 21 musicians in all, filling the Amphitheatre's sizeable stage with brass, percussion and multigenerational voices. Beholding it all was no easy task — band members were staggered across multiple tiers and risers, trading positions and instruments and fist bumps between solos on Chicago's Beginnings and Dialogue (Part I & II), Earth, Wind and Fire's In the Stone. It was like an expensive and elaborate Broadway musical; there was so much happening at once, you didn't know where to look first.
Earth, Wind and Fire's solo set came next, and after a brief, odd re-introduction — White and singer-percussionists Philip Bailey and Ralph Johnson bounded back out to great fanfare, like they hadn't just done the same thing 15 minutes prior — the band warmed up with a smoky, funky groove, then burst out the disco whistle for Boogie Wonderland.
Songs like Jupiter, Fantasy and Serpentine Fire thundered with the cross-cultural, astrological juju for which Earth, Wind and Fire is famous. The last of those, in particular, was a Chicano-funk odyssey of percussion and outta-control bass, backed by a video featuring vintage Maurice White — man, what a wonder that guy was — leasing a much younger band through the very same song. Maurice wasn't mentioned by name, but the way Verdine whomped and walloped on his bass, mugging and mashing at the end, he seemed to be digging deep to summon the spirit and soul of his brother.
Chicago, on the other hand, relied on their instrumental virtuosity and synchronicity to wow the crowd, particularly anytime trombonist James Pankow, trumpeter Lee Loughnane and saxophonist Ray Herrmann got together at center stage. With at least four members trading lead vocals during their set, the horns mostly owned center stage — even when they traded their brass for a tambourine, cowbell and clave for the tumbling, rumbling I'm a Man.
Unlike Earth, Wind and Fire, Chicago has yet to enjoy a hipster reappraisal and resurgence. But the creative, psychedelic flourishes of experimental suite Ballet for a Girl in Buchannon and greasy Euro-panache of Street Player deserve a fresh look from the Pitchfork set. Either way, Saturday in the Park remains one of the feel-goodiest feel-good songs ever written, a crowd favorite that had everyone standing and swaying like it really was the Fourth of July.
Both bands did dip into the softer, cheesier corners of their respective catalogs. Longtime Chicago bassist Jason Scheff was a shaky but passable fill-in for long-gone vocalist Peter Cetera on Hard Habit to Break, You're the Inspiration and Hard to Say I'm Sorry. And after warming up with After the Love has Gone, Bailey lit up like a roman candle on Reasons, his falsetto squealing and spiraling to unimaginable heights.
Chicago and Earth, Wind and Fire owe a lot to the younger members keeping them sounding fresh, even if most aren't exactly spring chickens themselves. Saxophonist Gary Bias and trombonist Reggie Young have been with Earth, Wind and Fire for nearly 30 years; trumpeter Bobby Burns Jr. more than 10. All these years later, they remain fitting heirs to the mighty Phenix Horns, working miracles with those gravity-defying charts on Jupiter and Devotion.
It was a shared love of big ol' brass that brought Chicago and Earth, Wind and Fire together for their first co-headlining tour more than a decade ago, and it was big ol' brass that brought them together at the end of Saturday's show as well.
Anytime you can open your encore with a 21-piece all-star band blasting September, one of the greatest party anthems of all time, it sets a high bar. But for nearly a half hour, the two-band finale never let up for a second, from the screaming horns of Free to the joyous bounce of Sing a Song to the runaway six-string juggernaut of 25 or 6 to 4. Their euphoric joint performance of Shining Star, we should all be so lucky to experience at least once in our lives.
The stage was once again overloaded with performers — Robert Lamm swaying with a keytar, Johnson and Bailey rapping on drums and congas, both horn lines twisting and dancing in unison. If it was all choreographed, it was choreographed wonderfully. And if not, even better — that just means all 21 guys were up there going wherever they wanted, moving however they saw fit, playing off each other in a natural, free-flowing way. How great they must have felt.
With that remarkable encore, the show went about 25 (or 6) minutes longer than expected, but that's okay. It's 2016, and Chicago and Earth, Wind and Fire are somehow both having a moment. Can you blame them for getting a little lost in it?