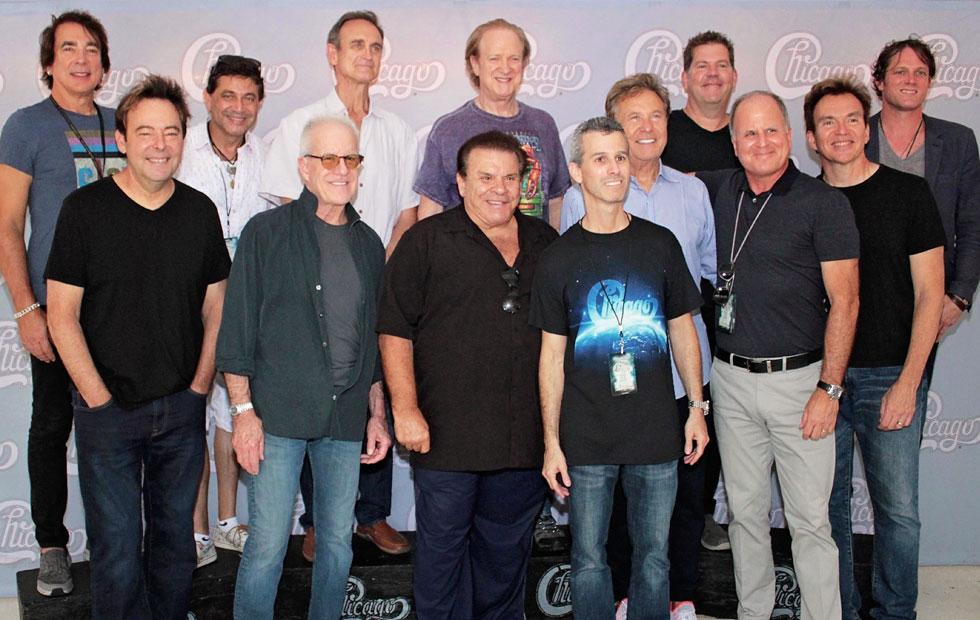 Chicago with Max Schachter (front) and Neil Jacobsen of Live Nation Florida (front right)
On July 20th we were honored and quite overwhelmed to meet the survivors and families of the Marjory Stoneman Douglas high school shootings in Parkland Florida.
Max Schachter presented his project, Safe Schools for Alex, a logical solution in need of Congressional endorsement to protect our children at school.
We shed a few tears as we met these still-raw, terribly-hurt sweet people going thru a life changing event.
Chicago was Alex's favorite band, and "25 Or 6 To 4" was his favorite song.
He played the trombone in the school marching band and was 14 years old.  Alex Schachter was one of the first victims of the Marjory Stoneman Douglas massacre in Parkland, Florida, earlier this year.  To honor Alex, Chicago invited 1,000 students, their families, school administrators, etc. to their West Palm Beach concert on July 20 and dedicated this song to Alex.
After the tragedy, Alex's father Max Schachter, quit his job so he could dedicate his life to making schools safe thru the foundation he created, Safe Schools For Alex. Max is currently developing national school safety best practices in conjunction with law enforcement. He intends to use these best practices to teach schools districts around the country how to protect themselves from future school shootings.
"No child has died in a school fire since 1958 due to our fire codes." Max wants to do the same for schools by developing school safety best practices. He intends to create an environment where teachers can teach and children can learn without the fear of being killed in their classrooms. "After 9/11, we hardened our airports and our cockpits. After the Oklahoma City bombing, we hardened our federal buildings." Max intends to use his national school safety best practices to assist all school districts in hardening their schools to make sure that all children and teachers are as safe and protected as our airports and federal buildings.
For more on Safe Schools for Alex visit https://www.safeschools.com