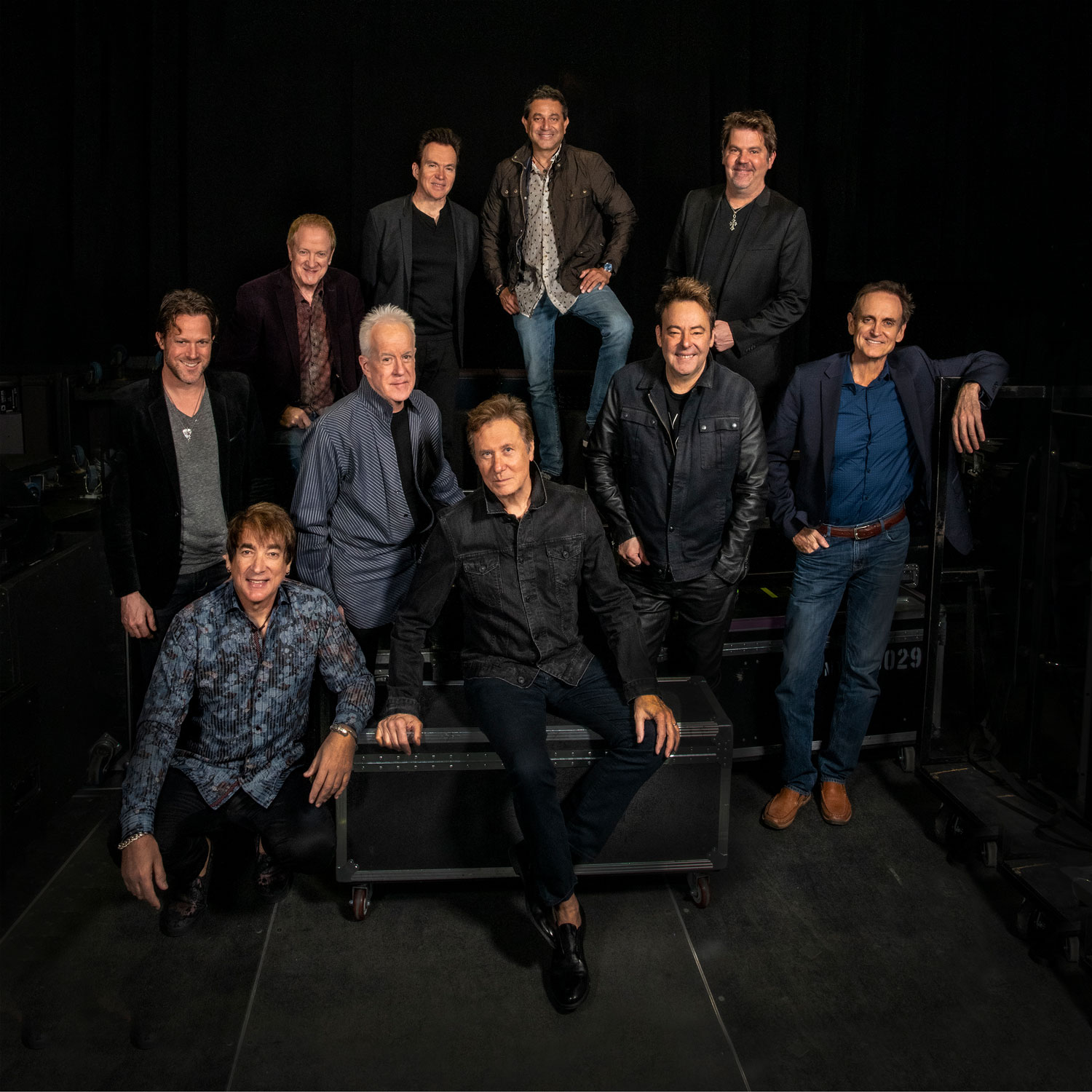 INTRANSIENT AUTHORITY: THERE'S NO LOOKING BACK FOR THE SUPERGROUP CHICAGO
"We've always loved Ravinia," says Lee Loughnane, the sole trumpeter the band Chicago has had since its inception in 1967. "It's great to be able to come back and play the music that we've all grown up with: we grew up writing and playing it, you folks grew up listening to it. We haven't played Ravinia in a few years, and we're excited to come back and play two nights [August 10 and 11]. And if you like the Chicago Symphony and the group Chicago, you will like the surprise we have for you on those two nights! I won't tell you what it is, but you have to come to the show to see it."
Loughnane was a regular attendee of Chicago Symphony Orchestra concerts at Ravinia when he was a kid. "I used to stand at the railing at Ravinia and just marvel at [longtime CSO principal trumpet] Bud Herseth and all the guys. That brass section just killed me. It still does. I remember auditioning for the Civic Orchestra [the training orchestra of the CSO], and Herseth was right there, and it was like, 'Oh, my God, I've got to play in front of the best there is?' But I did it and he said, 'Yeah, you can be in Civic.' But it wasn't too long after that when the band, which had already been formed, moved out to California. That was it for Civic and I was done with education at that point. I kept telling myself, 'I'll go back and get a degree.' But here I am still doing the same thing I did back then!"
The original lineup of Chicago made its Ravinia debut on August 14, 1972, at the height of the band's initial wave of popularity. Then–Ravinia boss Edward Gordon described the aftermath of that concert "as if a B-52 had flown by and dropped a ton of garbage over the park." It was a presidential election year and also the first time that 18-year-olds could vote. Campaign literature and buttons were handed out, and there were voter registration booths. The group's big hit from that summer was the activist anthem "Dialogue" (which opened the show), and the set featured a long, avant-garde anti-Nixon and anti-Vietnam War stretch imitating air raids and sirens. "Return our POWs," "Lick Dick in '72," and "McGovern" stickers were plainly visible on keyboardist Robert Lamm's Hammond B3 and Leslie. "We still do 'Dialogue' to this day," notes Loughnane, "and it is still poignant today lyrically. It's amazing."
On February 15, 1967—some five-and-a-half years before that Ravinia debut—Loughnane and a "supergroup" of Chicago-area musicians came together for the first time: original saxophonist Walt Parazaider hosted the practice at his parents' house in west suburban Maywood. Parazaider, Loughnane, and trombonist James Pankow had all met at the DePaul University School of Music, where Parazaider and original drummer Danny Seraphine came up with the idea of creating "a rock and roll band with horns."
"The horns wouldn't just go 'bup-bwadda-bup' in the background like with James Brown or Sam & Dave," Parazaider, now retired from the band, told me in 1988, "but would be an integral part of every composition and the overall sound of the band. Kids would see the band backing up Janis Joplin or Jimi Hendrix in those days and look at the horns and say, 'Wow, that's a funny looking ax; where's the strings and how do you tune it?' "
"All of a sudden I see this face in the window of [a DePaul] practice room door and I'm like, 'What is this guy looking at?' " Pankow told me in 2014. "I'm just in there woodshedding and Walt knocks on the door and says, 'Hey, dude, I've just been checking you out and I really like your playing. Do you have a band?' " Pankow had been playing around town with his own jazz quintet (called the Jivetet), but his interest was piqued. "At that point, I was pretty much a jazzer," said Pankow, "but the idea intrigued me because it was refreshing. I didn't know of any rock and roll bands with an indigenous horn section. I was looking at the possibility of playing popular music, music of my peers. I loved playing jazz, but it was usually in a partially full smoky club, not a concert environment. But this was like, 'Hey, man, a rock star with a trombone. That's an interesting concept!' "
Loughnane had been playing around town with Ross & The Majestics and the Shannon Show Band when he began sitting in, and Parazaider had been working with Seraphine and original guitarist/vocalist Terry Kath (then playing bass) in other bands, including Jimmy Ford & The Executives and the Missing Links, as well as on tour with Dick Clark's Caravan of Stars. With Seraphine and Kath (on guitar) as the base of the rhythm section, the hunt was on for someone who could play organ and pedal bass.
"I was playing with not-very-good bands," keyboardist and vocalist Robert Lamm told me in 2013, "but I was learning to do my thing, and it was a great laboratory." Lamm was a composition major at Roosevelt University, across the street from DePaul. At that time, he was billing himself as Bobby Charles with a band called The Wanderers, where, according to Pankow, "he was doing his own material and singing his ass off."
"I was playing with a quartet over on Belmont," said Lamm, "and Walt called. I think he might have said 'show band.' Our template was a band called The Mob and a couple of other Midwest show bands that were very polished, but none of which I was really familiar with. But the idea of playing with a band with horns in it was fascinating to me. I had had one experience auditioning with a would-be band—a female singer and a couple of horn players—but that never happened."
Calling themselves The Big Thing and working originally as a sextet in suits, largely as a cover band, the final personnel element would be the coup of luring bassist and vocalist Peter Cetera of The Exceptions, the best-known Chicago-area cover band of the day. "We worked a gig with a group called The Big Thing," Cetera told me in 2016, "and they were looking for a singing bass player—that was me, and boom. Not many months later, we moved lock, stock, and barrel to LA to find our fame and fortune." The Big Thing was renamed Chicago Transit Authority, later shortened to Chicago. "They were doing more left-field songs and doing horn arrangements of Beatles stuff," Cetera recalled. "Bobby [Lamm], who was playing organ pedals before I joined, was a fabulous writer, and he wrote some of the great classic songs of the '60s and early '70s. Things like 'Questions 67 and 68' and '25 or 6 to 4.' They were fun to sing."
Cetera would write and sing the group's first number-one hit, 1976's "If You Leave Me Now," and did the same with a string of hits into the mid-'80s through Chicago 17—the band's largest selling album—when he decided to leave the band and pursue a solo career. "It was like a bad marriage, and once the marriage is over, the marriage is over. Maybe you stay together for a while because of the kids, and the kids, in a band, are your songs. But then at a certain point you can't even stay together for the kids. And that's kind of what happened."
It was DePaul classmate and composition major James W. Guercio who would make a pivotal suggestion at that initial stage of the band. (He would go on to produce the band's first 11 classic albums.) "Guercio came to hear us play," said Lamm, "and we were doing covers. He suggested we listen to Vanilla Fudge. They were basically doing covers, but it was the psychedelic era, and they radically rearranged those songs. It was a bit of genius, I must say. Not just rearranging an acoustic song, but for a larger ensemble of rhythm section and horns. Maybe trading off vocals. Maybe working in instrumental sections. That was really an important step." As Pankow recalled it, "we started taking pop tunes and putting them in a blender and just twisted them out of shape, doing a kind-of Edgard Varèse thing to them."
Having joined the band with a few originals already in hand, Lamm admits he was "hearing musical voices" in his head as far back as he can remember, and that he has always been writing "compositions," as he calls them, "not really songs." "I still wake up and hear music in my head. I still hear music when I'm sleeping. That's my 'always' condition. I remember being a teenager walking down the street and humming to myself with what I was hearing." Ironically, "25 or 6 to 4," perhaps Lamm's best-known song, recounts the experience of a pre-dawn composer's block: "waiting for the break of day" while "searching for something to say." Lamm composed most of the material on the group's double debut album and is responsible for writing and singing such signature Chicago hits as "Does Anybody Know What Time It Is?," "Beginnings," and "Saturday in the Park."
For Pankow, his starting point as a composer came from a different place. "As a player, my ears were going to what the cats were doing behind the vocals," he said. "I wasn't a singer, I was an instrumentalist; that's where my heart was. But when I came into this thing, my ears opened up. All of the sudden, I am hearing the advantage of the spoken word. Not only can I express my musical ideas, I can express my personal thoughts in the musical ideas if I write lyrics and create a complete song in the story. That opened up a whole new world to me, learning the craft of making words work economically and poetically. Robert had that gift and had been doing that for a long time and was kind of a mentor to me in that regard because I paid attention to what he was doing. I think we mentored each other because through working with me, he began to allow himself to experiment with writing brass."
Pankow would be responsible for hits such as "Make Me Smile" and "Colour My World" early on, which were originally part of a 15-minute suite that the band still performs complete in concert. "The label edited it," Loughnane recalls, "and that was our first foray into 'Oh my God, they're going to cut up our art.' And that's when we realized that singles were advertisements for the band albums."
Another early composer of band material was guitarist and vocalist Terry Kath, who would be killed in a gun accident in 1978. "Very early on," said Lamm, "I remember playing 'Listen' for an audience in Santa Barbara. We were the opening act, and that was the first song of our 20-minute set. We finished the song with a bang, and there was absolutely no applause. Then Terry said, 'We need to write a song to start the show. We need an opener.' So then he wrote 'Introduction.' By that time, we were comfortable with this being a septet and the idea that you could write something that had movements and sections and solos and ensemble playing. That was something we could do and could do well. He really wanted that first song to show off what the band could do, put you through some changes and turnaround. I had been wanting to open the act with that piece again for a couple of decades, and we have been doing it complete as an opener to honor Terry. It is the first song of the first side of the first album that anybody ever heard of this band. When anybody first dropped the needle on that first track, they heard Terry singing."
That groundbreaking first double album, Chicago Transit Authority, was released 50 years ago and is being rereleased later in August for the anniversary. "We have just remixed and remastered the first album for Rhino," says Loughnane. "I remember Terry's 'Free Form Guitar' being played on a classical station in Chicago back in the day. People were like, 'Oh my God! Listen to these guys! This is so underground and cool.' But some of the same people later thought we had sold out when pieces on that album became hits, but we didn't change a note—not one note! So we just kept going. And that's what we've done since then."
Might there be performances of the complete Chicago Transit Authority album, as happened with 1970's Chicago II during 2017–18? "Well, we play a lot of it anyway," says Loughnane. "But I'm not sure how some of that would hold up. I think Chicago II held up more cohesively than some of the stuff from Chicago Transit Authority. I guess 'Listen' could work. But 'Free Form Guitar,' how do we do that? We could have a break and just play the track. And sit there and marvel."
After having been eligible for the Rock and Roll Hall of Fame since 1994, an unprecedented 37 million votes finally put Chicago there in 2016, reuniting them with Seraphine at the induction, but infamously not with Cetera after a row over song keys, repertoire, and personnel. Cetera was also a no-show to participate in Peter Pardini's Now More Than Ever: The History of Chicago (currently on Netflix), although he and the other original members did appear separately in Michelle Kath Sinclair's Chicago: The Terry Kath Experience (currently on Amazon Prime).
There have also been personnel changes since the band last played Ravinia in 2015 that were necessitated by the departures of singer and bassist Jason Scheff, who replaced Cetera in 1985, and drummer Tris Imboden, who replaced Seraphine in 1990.
"When Terry died, we thought we were going to break up. We have probably almost broken up as many times as years as we have been together. Many times we've thought, 'This might be end.' But it never has been. And it doesn't look like it's going to be anytime soon, either. Once stuff happens, you just make a decision and move forward. There's no looking back. We've got work to do. And we go do it."
Photography by Todd Gustafson (color), Dave Nakamura (B&W)
Originally Published in Ravinia Magazine  – Read the complete article by Dennis Polkow HERE.
Award-winning veteran journalist, broadcaster, critic, author, and educator Dennis Polkow played with Madura, a progressive rock trio that toured with Chicago in its early days and is an alumnus of the DePaul University School of Music, where Chicago formed.
Written by DENNIS POLKOW